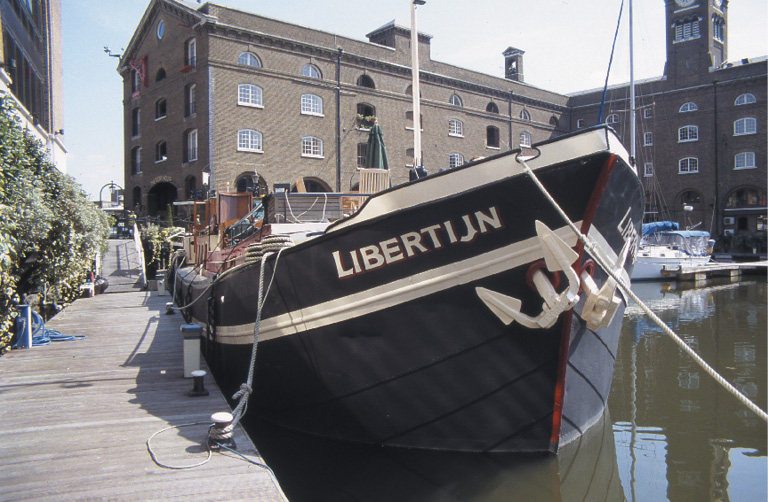 Libertijn of Alphen
Emma and Don wanted to buy a house in France for their retirement but couldn't decide where they wanted to live, so they built a luxury floating home instead that allows them to keep their options open and move around. That home is Libertijn , an 83ft (25.4m) long ship of a traditional Dutch design known as a Klipperaak. She is pictured here in St Katharine's Dock on the River Thames, London while enroute to her first summer in France.
Libertijn was built in 1910 in the Netherlands as a sailing cargo vessel. An engine and wheelhouse were added in 1920, and at some point in the 1970s she was shortened and converted for living aboard. Don and Emma bought her in 1999 and embarked on an extensive refit that took five years.
The ship has a large split-level open-plan area just forward of the wheelhouse that comprises the galley and the main living area. Emma and Don wanted this area to be both modern and functional, deliberately avoiding traditional ship styling, opting instead for bright colours and natural woods set against stainless steel and polished granite.
A wood-burning stove is a small concession to traditionalism and makes for cosy winter nights but a sophisticated central heating and air conditioning system maintains perfect internal conditions regardless of the outside temperature.
Hi-tech systems abound aboard Libertijn ; in addition to all the electronic systems required for safe navigation, Don installed a cinema and sound system that would put many commercial theatres to shame. At the flick of a switch a projector rises from the coffee table and a screen drops to cover the forward wall.
The ship has two cabins for guests, one with a queensized bed for couples, and one with two single beds. Behind the wheelhouse is the master cabin, sited where the original living quarters were when Libertijn was a working boat. During the refit all of the oak panels and teak surrounds from the 1920s original were dismantled and refurbished. They were then reinstalled into a new configuration to change a three-room living area into a single large bedroom housing a queen-size bed and a two metre marble bath. The interior has been carefully designed to reflect the art deco feeling of the 1920s. Even the speakers were custom-built using solid teak that had been French polished to match the walls.
Both Don and Emma love to cook, so the galley features a commercial six burner gas hob, a large commercial gas oven (both powered by bottled gas), two refrigerators, freezer, ice maker, dish washer, warming drawer and granite worktops. Since completing the refit Don and Emma have done quite a lot of cruising aboard Libertijn . Don says:
'Before May 2004 we made several trips up and down the Thames – as far as Henley-on-Thames and even participated in the 2003 Thames Traditional Boat Rally. In April 2004 we spent a month at St Katharine's Dock in London, then crossed the English Channel – entering the canal system at Calais. Once on the European continent, we spent a few weeks touring Belgium (including Bruges and Ghent), and then toured the Champagne and Burgundy regions of France. This winter we are in Auxerre, near Chablis in northern Burgundy.
'We plan to tour a different area of the European continent each summer, spending each winter in a different location. Next spring we are considering Alsace. We will eventually go all the way down to the Mediterranean, and all the way up through Belgium, Holland and Germany, and are entertaining thoughts of Eastern Europe.
' Don and Emma chose a life afloat because they have always enjoyed boating, even though they did not buy their first boat until 1998. They still own that boat now and keep her on the Thames – she is a 1960s wooden Star Craft cruiser called Lady Bea .
'At the time, cruising our wooden boat on the Thames was the only respite to otherwise crushing jobs. We had moved to England from America and were living in rented accommodation, so buying a boat to live on didn't sound unreasonable, especially since we were not planning to stay in the UK long-term. That was the beginning of a slippery slope, and what started as an experiment to live on water while in the UK became a passion. We have gone from boring live-to-work computer industry types to vagabond gypsies, travelling the European waterways with reckless abandon.' Don loves it so much he is writing a book documenting their adventures aboard Libertijn .
'Living afloat enables you to combine a constantly changing environment with the comforts of home. When you wake, the view out your window is fresh to your eyes. The town or city awaits your exploration. There are local specialities to sample, customs to experience, languages to learn, and people to get to know. At the end of each day you can retire to a comfortable, familiar environment with your own kitchen to cook in and bed to sleep in. The following day you can further explore this area, or start the engine and go somewhere new. Because you always return to your comfortable home, you do not get travel weary or homesick. Because your environment is constantly changing, you are never bored – in fact, the increased stimulus makes your mind more active, and constant exposure to new people and places broadens your thinking.
'The novelty factor of living aboard a boat should not be underestimated. It provides an immediate talking point with the locals you meet. Your friends and relatives are much more interested in visiting you. Old friends may think you have gone slightly mad, but they all harbour some hidden admiration for your unconventional lifestyle. Other boaters you meet tend to be slightly eccentric – just as you have become, and mutual understanding of the madness that this type of lifestyle requires always makes for impromptu parties.
'Piloting a large vessel through narrow waterways presents its own challenges, but traffic jams and road rage are not among them. From your aquatic vantage point, you often see cars queued up – usually because the bridge they want to cross has lifted to let you through. Not only do waterways often afford views that are not available from roads there is a sheer joy to skippering a boat that is impossible to describe to the uninitiated. Perversely, large craft that present a challenge to the skipper can be the most fun.
'I have always hated packing for a holiday. You inevitably forget important items, your suitcase is stuffed to bursting point, you are over the weight limit at the airline desk. Living afloat, you do not pack. You do not forget important items. You can buy cases of wine and have room to store them. You have all your favourite clothes, music, food, drink, movies, etc with you at all times.
'On a boat you are responsible for systems you always took for granted in a house – supplying pressurised water, generating electricity, disposing of effluent. In addition, most houses do not have a central engine the size of a large sofa to contend with. As a result, you learn to be an electrician, plumber, mechanic, and decorator. I now laugh at the things that used to daunt me when I lived in a house. You might think that this is one of the 'worst' bits about living afloat, but after the initial frustration I have found I enjoy the challenges. Most other people who live on boats find the same strange appeal – attend a party with boaters and have the host mention a nagging system problem they are having, and minutes later the floorboards will be up while four different people have an enthusiastic go at fixing it.'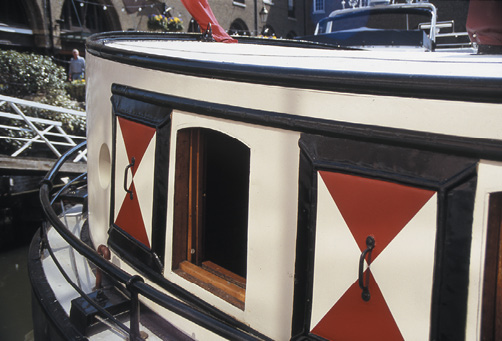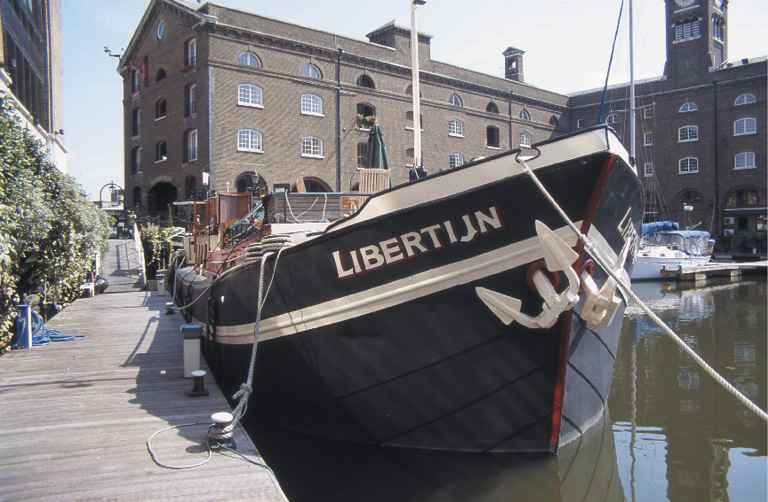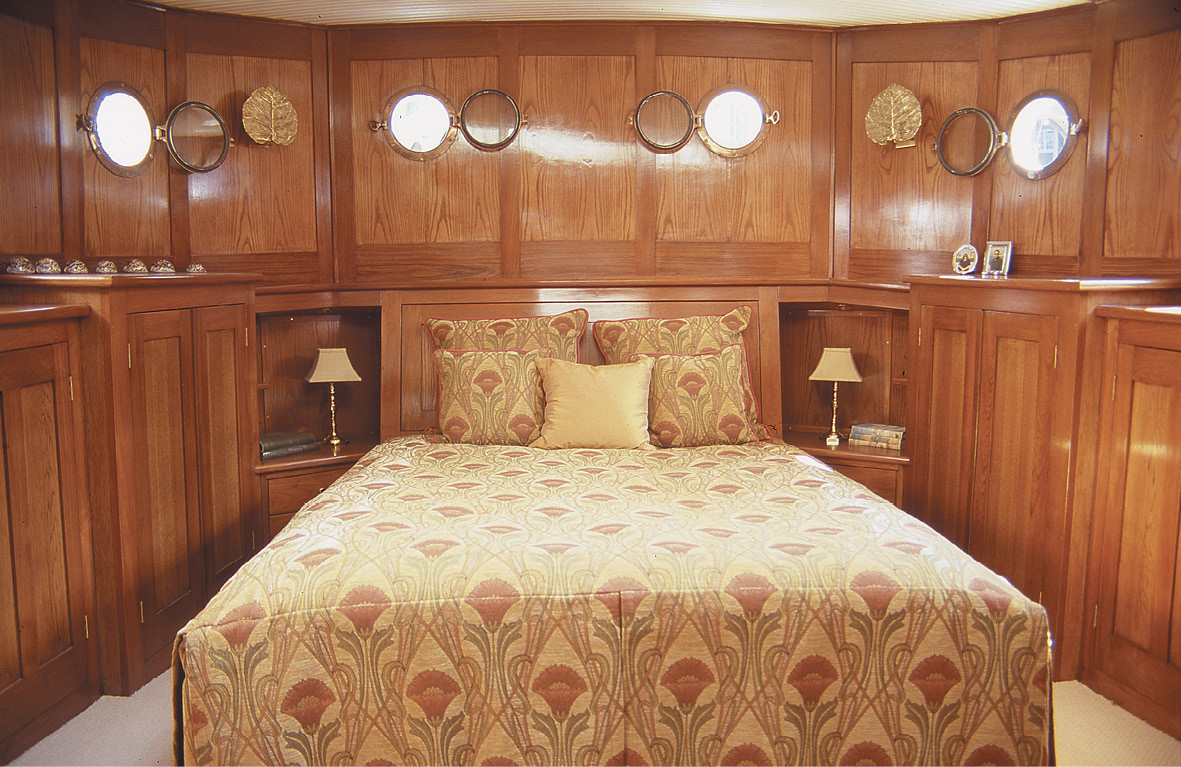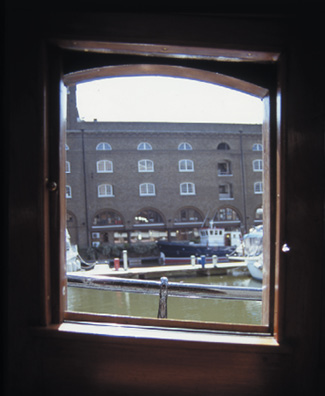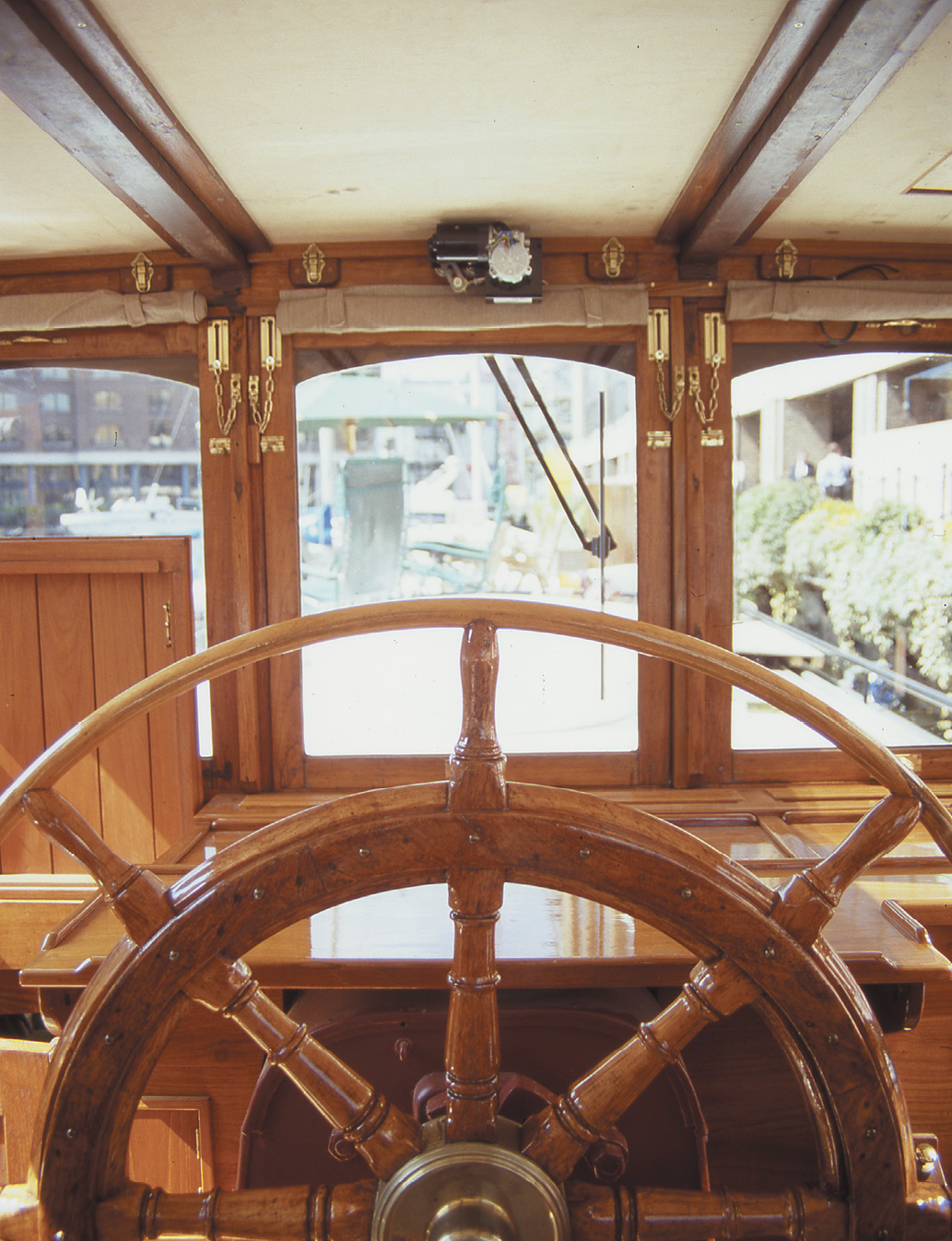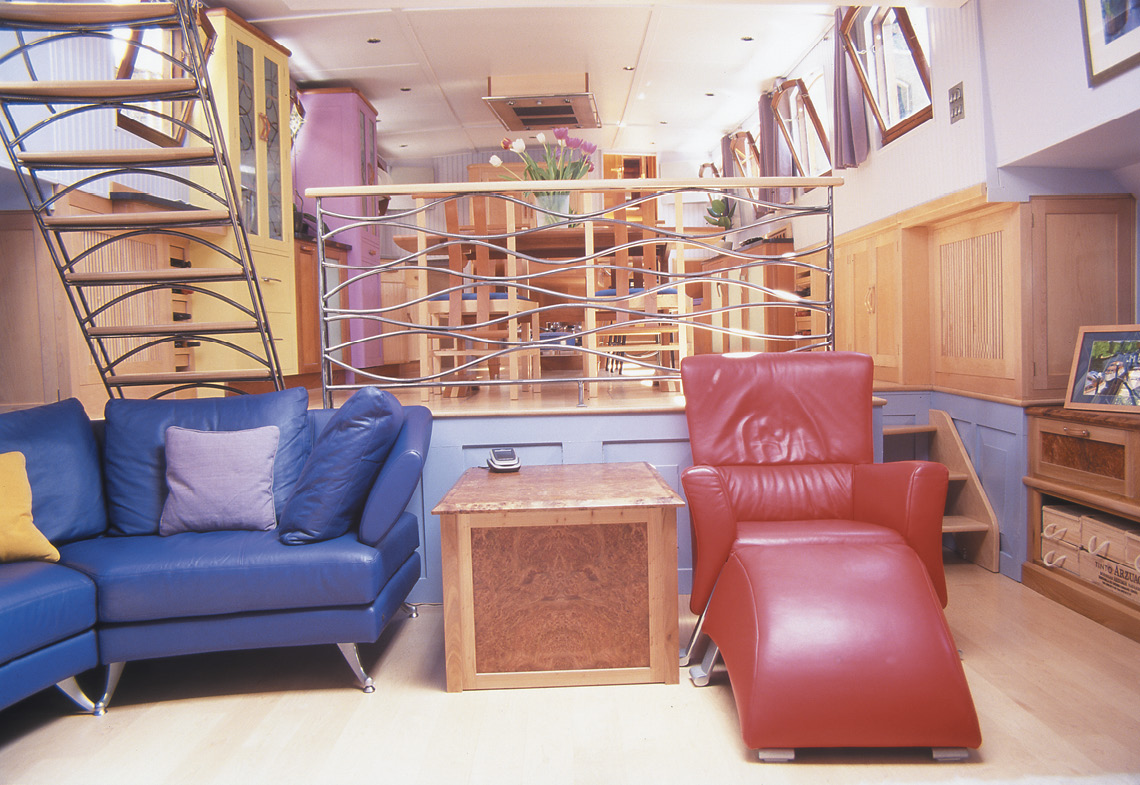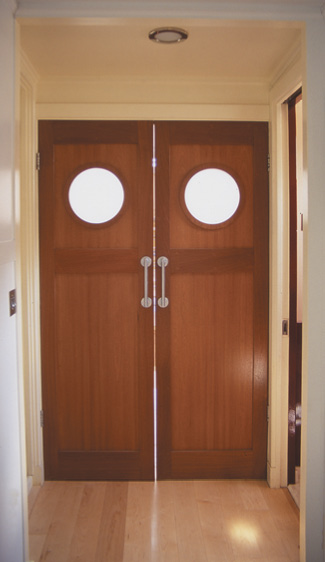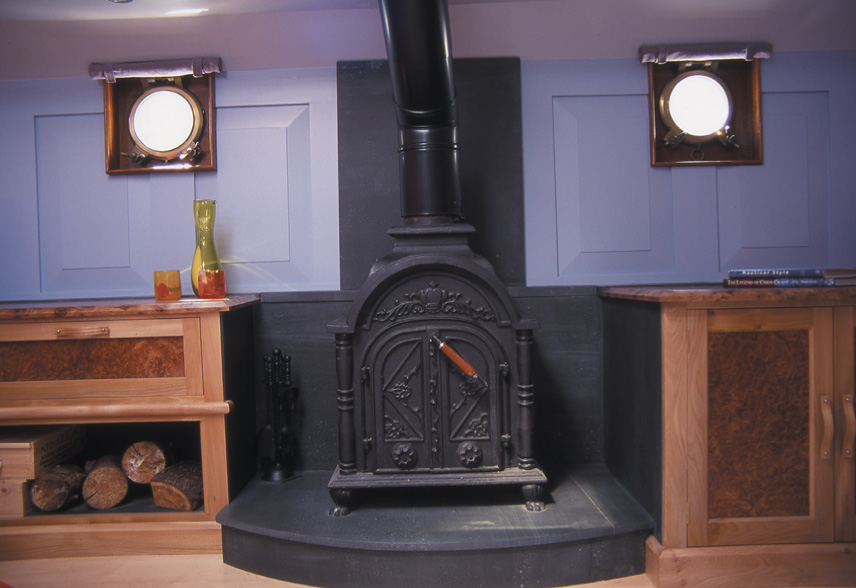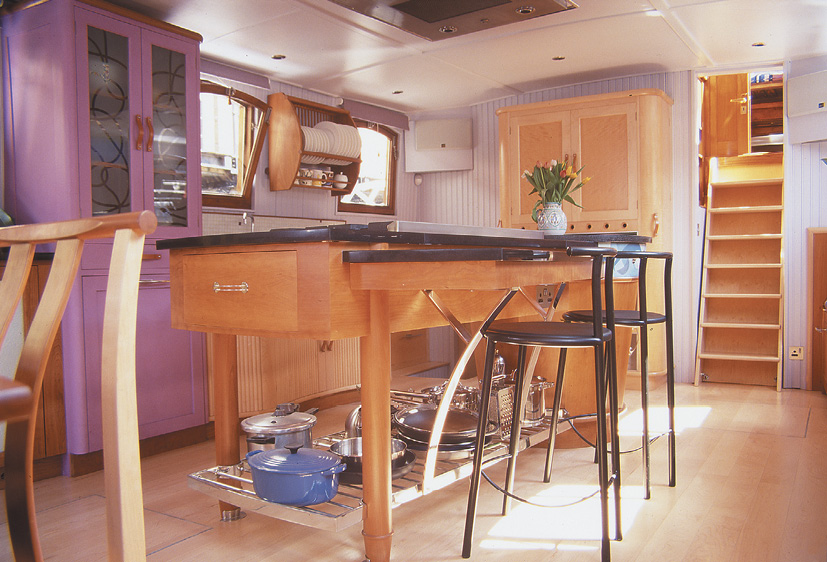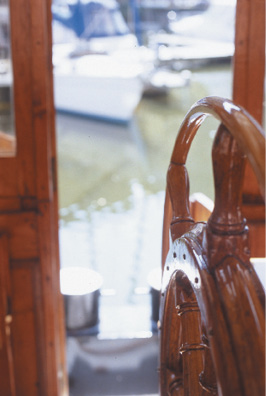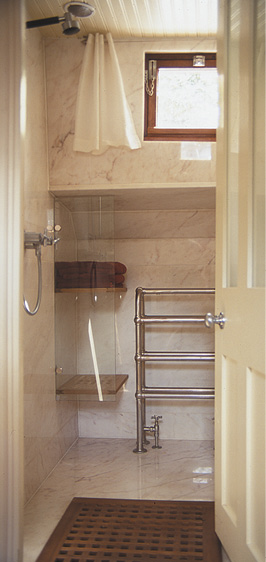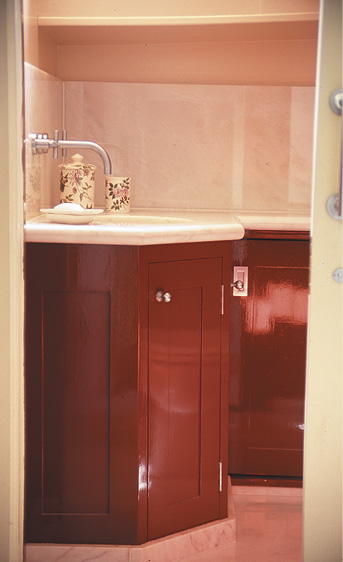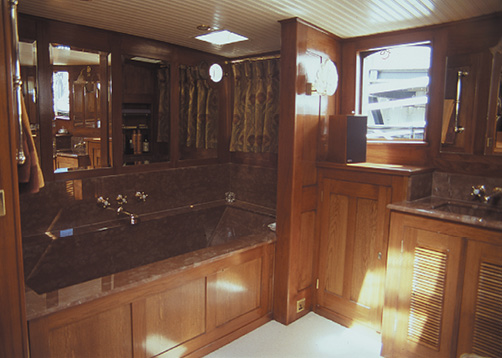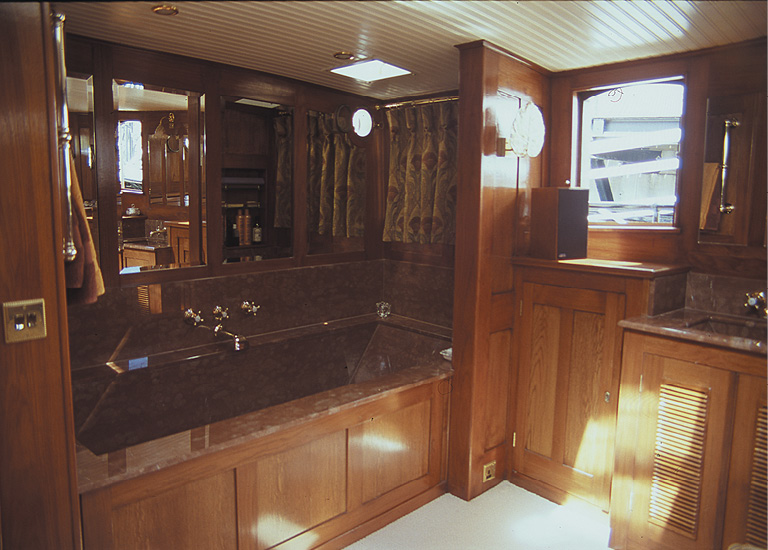 Sorry, the comment form is closed at this time.